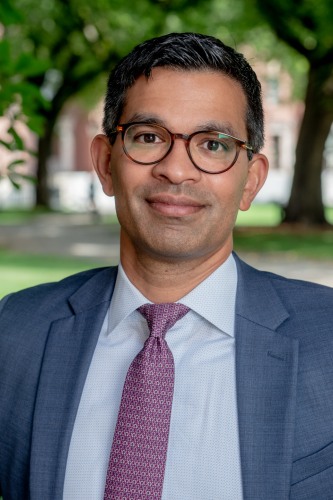 Shankar Prasad
Co-Academic Director, Dean, School of Professional Studies, Vice President, Academic Innovation, Brown University
Shankar Prasad is the dean of the School of Professional Studies and vice president for academic innovation at Brown University. In this role, Prasad oversees a portfolio of Brown's masters programs for both early- and mid-career professionals as well as a suite of non-degree programs for individuals and organizations. As dean, he serves as a member of the president's cabinet and a member of the provost's leadership group of senior academic deans, which coordinates academic priorities across the University.
Prior to his current appointment, Prasad was Brown's associate and then deputy provost and vice president for academic innovation from 2016 to 2020. During this time, he wrote the University's first global strategy for advancing research, teaching and learning around the world, working simultaneously to create an inclusive community for international students, staff and faculty on campus. 
Previously, he served as director of undergraduate studies and clinical professor of public policy at New York University's Robert F. Wagner School of Public Service from 2009 to 2014. In 2014, Prasad returned to Brown as associate director of the Watson Institute for International and Public Affairs, where he was instrumental in redesigning the undergraduate and graduate policy programs. Additionally, he led the transformation of the master of public affairs degree into a one-year, global program, developing exchange programs with Sweden, Brazil and India.
Prasad holds a Ph.D. in political science from Brown and an MBA from MIT Sloan. He serves on the boards of the Trinity Repertory Theater and the Wheeler School.