Gaining Global Perspective
During the IE Brown Executive MBA, you not only learn about different global perspectives, but experience them. Through week-long residencies with your cohort and faculty in Madrid, Spain; Providence, RI USA; and Cape Town, South Africa you'll strengthen your ability to see through different disciplinary lenses, gain a unique familiarity with the context you're operating in and develop a deep understanding of global challenges and opportunities.
This insight uncovers the faces, dreams and aspirations of the individuals that make up markets.  It adds nuance to data, an edge to business strategies, and a sense of responsibility to the lives of those impacted by our decisions.
Madrid, Spain
The program launches in March at IE Business School in Spain and students have the opportunity to immerse themselves in the hustle and bustle of Madrid and in the magic of the medieval town, Segovia. Experience the cultural diversity of the two campuses and get behind-the-scenes tours of museums to learn about the history of the city. Students return again in October.
Courses in Madrid include:
Managerial Economics, Leading People, Teams & Organizations and The Share History of Slavery & Capitalism.
Providence, Rhode Island
Students visit Providence for residencies in June and again the following May for commencement. Experience the tradition of walking through Brown University's Van Wickle Gates, explore the rich history of College Hill, and learn about the growing downtown innovation district and entrepreneurial ecosystem.
Courses in Providence include:
Society & Culture in the Age of Globalization, Technology & Innovation Strategy and Global Markets: Money, Power, Taxes and Growth.
Cape Town, South Africa
Each IE Brown cohort spends one week in South Africa as part of the course, Entrepreneurial Opportunities in Developing Regions. Working in teams, they are charged with ideating new potential business solutions for Cape Town townships.
For nearly all IE Brown students, townships are worlds away from their standard operating environment. Venturing beyond their professional comfort zone, IE Brown teams discover that innovation comes from the creative process of rigorously applying different lenses to complex problem-solving.
Move from Theory to Practice
Fine-tune your deliberative skills and attentiveness to bias and power relations.
Acquire confidence in your ability to think critically in complex, unfamiliar environments as a means to connect the dots and engage teams and stakeholders.
Gain a language and structure to forge innovative and executable solutions to the critical challenges facing business and society today.
Not long after we arrived in South Africa, we boarded a bus and drove through the township on our way to a choir performance. We were asked to be silent and observe. This exercise taught us the power of observation – to absorb data and stifle the reflexive behavior to pigeon-hole information into our worldview. With this approach, we were able to ask better questions and probe beneath the surface of our expectations. It confirmed the value of taking stock of our own expectations and finding a mental space where we could hear people and discover new opportunities.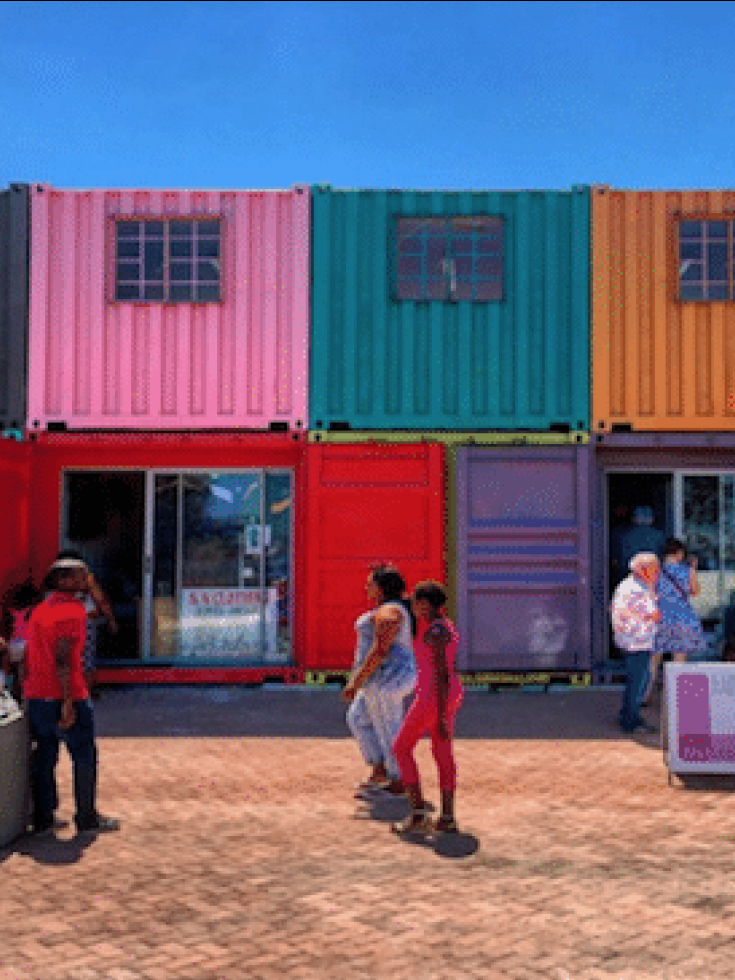 Impact in a global digital age.
Work in teams to devise a business proposal that addresses Cape Town township market challenges and opportunities. The complexity of the assignment – intensified by South Africa's dynamic clash of cultures, politics and human needs – demands rigorous application of knowledge acquired in previous classroom and online sessions.

The reward: Radical new business ideas with potential far beyond the townships.
READ THE CASE STUDY