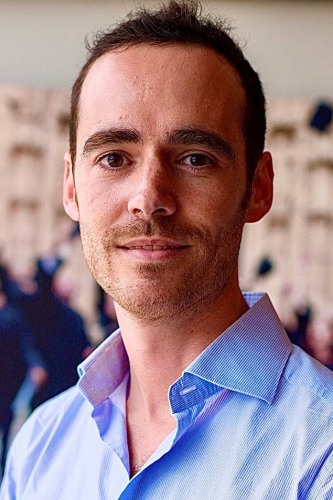 Carlos Simón '19
Investment Director, PHI Industrial
Carlos Simon is an Investment Director at Phi Industrial, a private equity fund based in Madrid, Spain. He has developed his career in the financial industry, starting in consulting and business development, later focusing on the investment field. He holds a BBA and a Master's Degree in Auditing and Management from ICADE University. In 2019, Carlos graduated from the IE Brown Executive MBA program.
WHY DID YOU CHOOSE THE IE BROWN EXECUTIVE MBA PROGRAM?
I wanted to enroll in a program where I could learn innovative management skills that would allow me to boost my career and consolidate my career as an investment manager. However, I knew that I didn't want to study a traditional MBA program—I was looking for something that would really make an impact on my professional and personal life. Furthermore, I was hoping for an international and diverse experience that wouldn't require the commitment of a full-time program. The IE Brown Executive MBA program combined all these aspects, offering a highly flexible, top-quality MBA education with a special focus on human sciences, all within a truly international and diverse environment.
WHAT DID EACH RESIDENTIAL PERIOD ADD TO THE PROGRAM FOR YOU?
I met my classmates and professors at the beginning of the program, during the residential period in Segovia and Madrid. Spending a few days together at IE's campus in Segovia was essential for us to get to know each other—many of the friendships that were forged during the program began on that trip. Also, those days in Madrid and Segovia allowed us to clearly understand the way we were expected to work both individually and in teams.
The second residential period took place a few months later, at Brown's campus in Providence. This was very special for me, since for the first time in my life I had the chance to spend a few days at one of the best universities in the United States. By that time, we already knew each other very well and the experience was wonderful. During this period, we finished several of the courses, and started others. The human sciences side of the program also became clearer there.
The third residential period was, from an academic point of view, very important—this is when we had to present the EMX project. Here, we were expected to defend a new venture in front of an examining board composed of experts in venture capital. By the end of this residential period, our working teams changed and I started working with four different classmates.
The fourth residential period was probably the most special one. It took place in Cape Town, a very unique city that we all fell in love with. Some of us even took a few days off before or after the residential period to tour around the area! With respect to the program, we spent a week working in teams with local authorities and interested parties, analyzing and trying to propose a solution to a problem of local interest in Cape Town's townships.
Finally, we all got together again in Providence for an intensive final week of deliverables and celebrations. I'll never forget the incredible experience of participating in the graduation ceremony at Brown.
WHAT WAS YOUR BEST MEMORY FROM THE PROGRAM?
It's difficult to choose one but I would say that my best memory is the whole Cape Town experience. We had time to have fun, but more importantly, we were deeply involved in the process of finding solutions to local problems that, if solved, would imply a reduction of inequality and an improvement of the living conditions of many people in the townships.
Our project, which consisted of trying to find solutions to the lack of funding of small- and medium-sized enterprises in the townships, gave us the opportunity to provide good ideas that could facilitate a positive social impact through meaningful economic growth across the townships.
HOW DID THE IE BROWN EXECUTIVE MBA PROGRAM AFFECT YOUR PROFESSIONAL AND/OR PERSONAL GROWTH?
First of all, I have made a lot of contacts and friends with people from many different countries and cultures. This has made the experience very enriching on a personal level.
Professionally, I've acquired a set of knowledge and skills on several business and social topics, especially in everything related to shared value creation, which is a combination of economic value and social value. I was able to work with colleagues who already work in, or have created companies, that want to make the world a better place. I found this to be particularly enlightening. Now, I have a much more profound awareness of the social impact of the projects I work on, and I'm taking the necessary steps to focus more on this area.