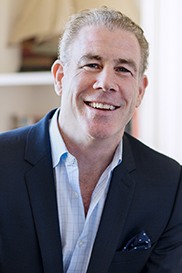 William O'Farrell '84, P'16, P'19
Co-founder and Former CEO, BodyLabs, Inc.
William J. ("Bill") O'Farrell is a 30-year veteran of the start-up world. He most recently co-founded and was CEO of Body Labs, Inc., a computer vision and AI company focused on 3D human body modeling. Body Labs was acquired by Amazon (NASDAQ:AMZN) in 2017.
Formerly, he was co-founder and CEO of such companies as SpeechWorks (NASDAQ:SPWX), acquired by Nuance (NASDAQ:NUAN), OpenAir.com, acquired by Netsuite (NASDAQ:N), and the Company of Science & Art, which created the After Effects product line, acquired by Adobe (NASDAQ:ADBE).
Bill is also an Adjunct Professor at the Columbia Business School where he teaches "Launch Your Start-up." Bill received his undergraduate degree from Brown University and a JD from Harvard Law School. Other educational endeavors include a year of graduate work at the University of Nice, France under a Rotary Foundation Scholarship and the New England Clean Energy Council Fellowship.