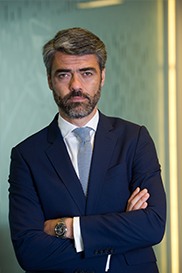 Luis Enríquez Nistal
CEO, Vocento
Luis Enríquez Nistal, has been the CEO of Vocento since July 2011. He is married with four children and holds a degree in economics and business from the Universidad Pontificia de Comillas (ICADE).
From 1995 to 2000 he was managing director of Arum Producciones. During this time he negotiated an output deal with New Line for the release of at least 30 films a year in Spanish cinemas, in addition to a syndicated loan with four international banks for a total of 40 million euros without collateral from the company (which had share capital of 1.6 million euros).
In 2000, Luis Enríquez joined Unidad Editorial as managing director of regional editions, where he restructured and centralised the management of six units. In 2007 he was appointed group managing director, in charge of titles such as Marca, El Mundo and Expansión. During this period he oversaw the integration of the publications of Recoletos with Unidad Editorial, managed the restructuring operations of 2009 and 2010 and spearheaded the launch of the Orbyt platform.
At Vocento, he has been focused on ensuring editorial independence and on strengthening the core newspaper business in print and online. He has returned the group to profitability, improved distribution and circulation margins and accelerated the restructuring of the company's publications. Vocento is the only Spanish publisher to have successfully implemented business models based on payment for online content.