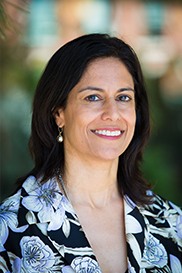 Namrita Kapur
National Geographic Society Impact Investing Consultant and Growald Family Fund Fellow
As former Managing Director of EDF's EDF+Business, Namrita and her team develop strategies to accelerate innovation in the corporate sector. Drawing from her background in strategy, finance, and international development, she has designed and executed initiatives for leveraging capital markets in the United States and abroad. She leads EDF's efforts on sustainable finance, ranging from evaluating financial institution commitments in this area to clearing barriers to attract private capital to support sustainably managed fisheries, endangered species habitat, ecosystem resiliency, zero deforestation and energy efficiency.
Prior to joining Environmental Defense Fund, Namrita was part of the founding team of Root Capital-a social investment fund pioneering finance in rural communities in the developing world. During her tenure at Root Capital, she grew the organization from 5 people and barely $5 million in assets to almost 40 people and $40+ million in assets.
She previously built the alternative energy franchise at the investment bank, Adams, Harkness & Hill (now CanAccord Genuity); led programs for the Environmental League of Massachusetts; and focused on forest concession policy for the United Nations Development Program. She currently serves on the Finance Committee for the Board of the Environmental League of Massachusetts; and on the Advisory Board of the Sustainability Accounting Standards Board. Namrita possesses an MBA and an MA of Environmental Management from Yale University and a Bachelor's degree in Molecular Biology from Princeton.