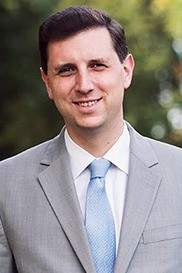 Seth Magaziner '06
General Treasurer of the State of Rhode Island
Seth Magaziner was sworn in as General Treasurer for the State of Rhode Island on January 6, 2015 and is committed to promoting economic growth and financial stability for all Rhode Islanders. In his first months in office, Seth successfully championed legislation establishing new green infrastructure programs at the Rhode Island Infrastructure Bank. These programs are putting tradesmen and women to work on energy efficiency and renewable energy projects across the state, helping Rhode Islanders save on energy costs, and reducing the state's carbon footprint.
As co-chair of the Governor's School Buildings Task Force, Seth led that team that developed a plan to make a once-in-a-generation investment in repairing Rhode Island's crumbling school buildings. All children deserve to go to schools that are warm, safe, dry, and equipped for 21st century learning, and this plan will deliver on this promise while putting thousands of people to work in the process.
Seth also launched 'BankLocal', which has helped more than 200 Rhode Island small businesses by moving the state's cash to local community banks and credit unions to support small business lending.
Those Rhode Islanders who spend their lives serving the community as teachers, first responders, state and municipal employees, deserve a secure retirement. Under Seth's Back to Basics investment strategy, Rhode Island's pension fund earned more than $1 billion of investment gains in 2017. Seth's "Transparent Treasury" initiative to help Rhode Islanders access information about how their public funds are managed has been recognized as a national model for financial transparency.
Seth also worked with a bipartisan group of legislators to design and pass the 2015 ABLE Act, establishing tax-efficient savings accounts for children with disabilities.
Seth was born and raised in Bristol, Rhode Island, and began his career as a public elementary school teacher in rural Louisiana. After returning home to Rhode Island, he worked as a vice president at Trillium Asset Management, a socially responsible investment firm before his election as General Treasurer. Seth holds a bachelor's degree in history from Brown University and a master's degree in business administration from Yale University.
Seth lives in Providence and serves on the board of Crossroads Rhode Island, the state's largest provider of services to the homeless.